Luc PETTON

,

 choreographer of the Compagny Le Guetteur
---
Born in Brittany, at the confines of sea and land, Luc would use the constant transformation of Nature as the basis for his pastimes and his sense of observation. Fascinated by movement, he attended intense Karate classes and progressed as far as the black belt level. During his first visit to Paris when he was 18, he discovered a different form of movement – the art of dance. It was love at first sight!
In 1979, Luc Petton obtained a grant from the Conservatoire National des Arts du Cirque et du Mime. He became ever more involved in dance; his encounter with Moses Pendelton, Director of Pilobolus, acted as a springboard for his future career by encouraging him to travel to New York to work with Alwin Nikolaïs. No sooner had he arrived at Nikolaïs' Dance Theater Lab in 1980, than he was granted a work scholarship. Here he also attended lessons by Hanya Holm and Murray Louis. He made friends with Steve Paxton and discovered the "contact-improvisation" style. In 1981, he returned to Europe and met Suzanne Linke who hired him at the Folkwang Tanz Studio in Essen (Germany) where he remained for 3 years. With a grant from the Ministry of Culture in 1984, he returned to New York where he had the opportunity to perfect his work alongside Ruth Currier, the early dance partner of José Limon, while opening his horizons at the School for Movement Research with a new approach to body movement. He moved in the same circles as Trisha Brown.
In 1985, he started experimenting with his own personal choreographies and returned to France where he founded the 'Compagnie Icosaèdre' with Marilén Iglesias-Breuker winner of the dance competition 'Prix l'Eté de la Danse 85', and accepted in residence at the Maison de la Culture in Reims.
n 1994, he created Le Guetteur Luc Petton & Cie which was a first step along the remarkable road to the world of French choreography. He distinguished with his first creations If and Oscar, which opened at several cultural events such as the 'îles de Danse', the 'Biennale du Val de Marne', the 'Festival de Marseille', the 'Biennale de la Danse de Lyon'...
In 1999, a particular commission from the 'Biennale de la Danse du Val de Marne' gave him the opportunity to revive his first love for the martial arts, with the creation of "Polemos - du duel au duo". With this play, using two dancers and 3 champions from the world of karate, he began his research into the idea of 'laisser-être' [let be] which he continued to develop and around which he based his subsequent project using birds.
Endowed with a delicate, flowing style, his dancing is full of lightness and elegance. His penchant for aerial movements of the body was especially visible in his creations between 2000 and 2002 and led him to show an interest in the mechanics of flight (Sur le fil de minuit, created for the junior section of the national conservatory of arts, the 'Ballet Junior du CNSM de Paris') but also anything to do with the magic of the weightless body (Sans abord réel).
Fascinated by birds since he was a child and an avid ornithologist, in 2004 he launched the fabulous creative adventure associating dancers and live birds on stage. Two projects were born under the generic name La Confidence des oiseaux: the first was an open-air performance, created in 2005 for 'Art Danse Bourgogne' in Dijon and for 'les Envies-Rhônements' festival. The second was destined for the theatre, with a preview performance in 2006 at the Faïencerie in Creil. In 2008, at the 'Hivernales d'Avignon' festival, he presented for the first time a new version called Migration d'été using two new birds; it was an enormous success with performances at the 'Festival d'Avignon' that same year, then at the 'Théâtre National de Chaillot'.
The adventure continues with the creation of SWAN, a play for swans and dancers. Luc Petton was selected by ADAMI – an association defending the rights of arts professionals – to act as choreographer for the Talents Danse 2012 project.
Since 1997, he leads with his Company interventions in hospitals in the frame of the national project "Culture à l'Hopital" to disabled children and aged people. Thanks to the bird and dance mediation, Luc Petton wishes to open culture and dance to everyone by breaking down the barriers between the public, the style and the ages and even the languages, because birds and dancers are not subjected to the linguistic barriers. On a poetic mode, Luc Petton participes to the Cultures becoming closer, by mixing timeless emotions and contemporary.
In July 2013, he become Officer of the Arts and Letters Order.
Since 2013, he works on the creation of Light Bird the third and last triptych part with birds, staging red crowned cranes and dancers, in relationship with South Korea. The worldwide premier took place at the Théâtre national de Chaillot in May 2015.
Since 2013, he creates Light Bird the third act of his quadriptych project with birds, staging red crowned japanese cranes and dancers. The worldwide premier took place at the Théâtre national de Chaillot in May 2015.
In 2017 a new project appears about « the poetic of Fright » with birds of pray, a wolf, a vulture, dancers and circus artist : «Ainsi la Nuit » This piece is still on tour
At the same time the company started another project totally different ; DREAMS which is an attempt to realize short choreographies on the concept of short one-shot movie. That could be played in any location in or outside theater, museum, church, square…
In parallel with his artistic career Luc Petton was always interested by contemplativ sciences like Zen or Vipassana that he could practice during a number of workshops and retreat in France, USA, and Japan. In 2014 he met the Mindfulness » experience with the professor Jean-Gérard Bloch at University of Strasbourg where he could study. He is now creating a pedagogic method : Mindfulness/Sensible Body, adapted for artist.
He is also initiating a concept for audience, MAP, Mindfulness Art Project where public is invited to a guidance toward silence ans receptiveness in order to have the chance to receive a art performance with a peaceful state of mind.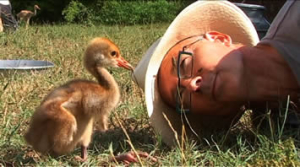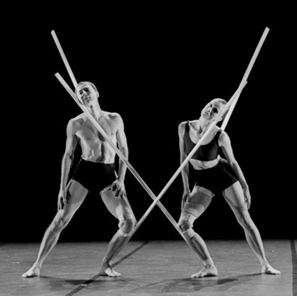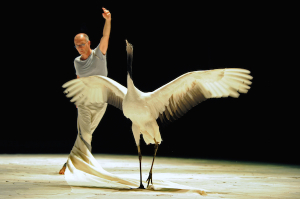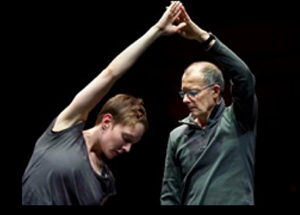 Creations
---
2018 : Creation of Ainsi la Nuit at the Bateau Feu, scène nationale de Dunkerque
2017 : First show of Ainsi la Nuit at the Opera de Reims
création of Silent Dream, first section of DREAMS
Shooting of  "en un battement continu" for Culturebox - France Télévisions
2015 : Creation of Light Bird at the Théâtre national de Chaillot in may
2014/2015 : First shows of the project Light Bird
2013 : Spring, hatching of the crane's eggs and impregnation protocol start
2012 : Creation of Swan at the Théâtre national de Chaillot and tour start
2011/2012 : Swan choreographic creation for swans and dancers
2010 : CAvAlle !, presents 2 stallions, a crow, 3 dancers and 1 musician
2008 : Migration d'été (nouvelle d'été), Hivernales d'Avignon, Théâtre national de Chaillot
2007 : Objet près-loin, for the Museum of Picardie
2006 : La Confidence des oiseaux - theatrical version, at Faïencerie in Creil
2005 : La Confidence des oiseaux - open-air version, created for Art Danse Bourgogne in Dijon and for Les Envies-Rhônements, festival in Camargue
2002 : Sur le fil de minuit, co-production by l'Echangeur in Fère en Tardenois
2000 : Sans abord réel, for the Ballet Junior du Conservatoire National Supérieur de Paris
1999 : Polemos - du duel au duo, commissioned by the 'Biennale du Val de Marne', the play presents dancers and high-level Karatekas.
1997 : Oscar, inspired by the work of Oskar Schlemmer, presented on stage during the 'Biennale du Val de Marne' (performed 160 times in France and abroad)
1996 : IF, trio for 2 men and 1 stage, created at the Théâtre Ayoama in Tokyo
1994 : Le Grand Vivant, created for the opening of La Comète -national stage of Châlons-en-Champagne, focusing on a work of the visual artist Louis Lutz
1992 : L'âme des Pierres, solo in the film directed and orchestrated by Susumu Yoshida, co-written with Marilén Iglesias-Breuker, broadcast by ESSEI-CHannel, Tokyo
1989 : Kodama - L'esprit de l'arbre, solo to music of Susumu Yoshida